July 23, 2017
It's not going to come as a surprise to anyone who's been paying attention to drug R&D trends that cancer is the number 1 disease in terms of new drug development projects. But it is amazing to see exactly how much oncology dominates the industry as never before.
At a time the first CAR-T looks to be on the threshold of a pioneering approval and the first wave of PD-(L)1 drugs are spurring hundreds of combination studies, cancer accounted for 8,651 of the total number of pipeline projects counted by the Analysis Group, crunching the numbers in a new report commissioned by PhRMA. That's more than a third of the 24,389 preclinical through Phase III programs tracked by EvaluatePharma, which provided the database for this review.
That's also more than the next 5 disease fields combined, starting with number 2, neurology — a field that includes Parkinson's and Alzheimer's. Psychiatry, once a major focus for pharma R&D, didn't even make the top 10, with 468 projects.
Moving downstream, cancer studies are overwhelmingly in the lead. Singling out Phase I projects, cancer accounted for 1,757 out of a total of 3,723 initiatives, close to half. In Phase II it's the focus of 1,920 of 4,424 projects. Only in late-stage studies does cancer start to lose its overwhelming dominance, falling to 329 of 1,257 projects.
PhRMA commissioned this report to underscore just how much the industry is committed to R&D and significant new drug development, a subject that routinely comes into question as analysts evaluate how much money is devoted to developing new drugs instead of, say, marketing or share buybacks.
The report makes a few other points to underscore the nature of the work these days.
— Three out of four projects in the clinic were angling for first-in-class status, spotlighting the emphasis on advancing new medicines that can make a difference for patients. Me-too drugs are completely out of fashion, unlikely to command much weight with payers.
— Of all the projects in clinical development, 822 were for orphan drugs looking to serve a market of 200,000 or less. Orphan drugs have performed well, able to command high prices and benefiting from incentives under federal law.
— There were 731 cell and gene therapy projects in the clinic, with biopharma looking at pioneering approvals in CAR-T, with Novartis and Kite, as well as the first US OK for a gene therapy, with the first application accepted this week for a priority review of a new therapy from Spark Therapeutics.
---
Distribution of products and projects by therapeutic area and phase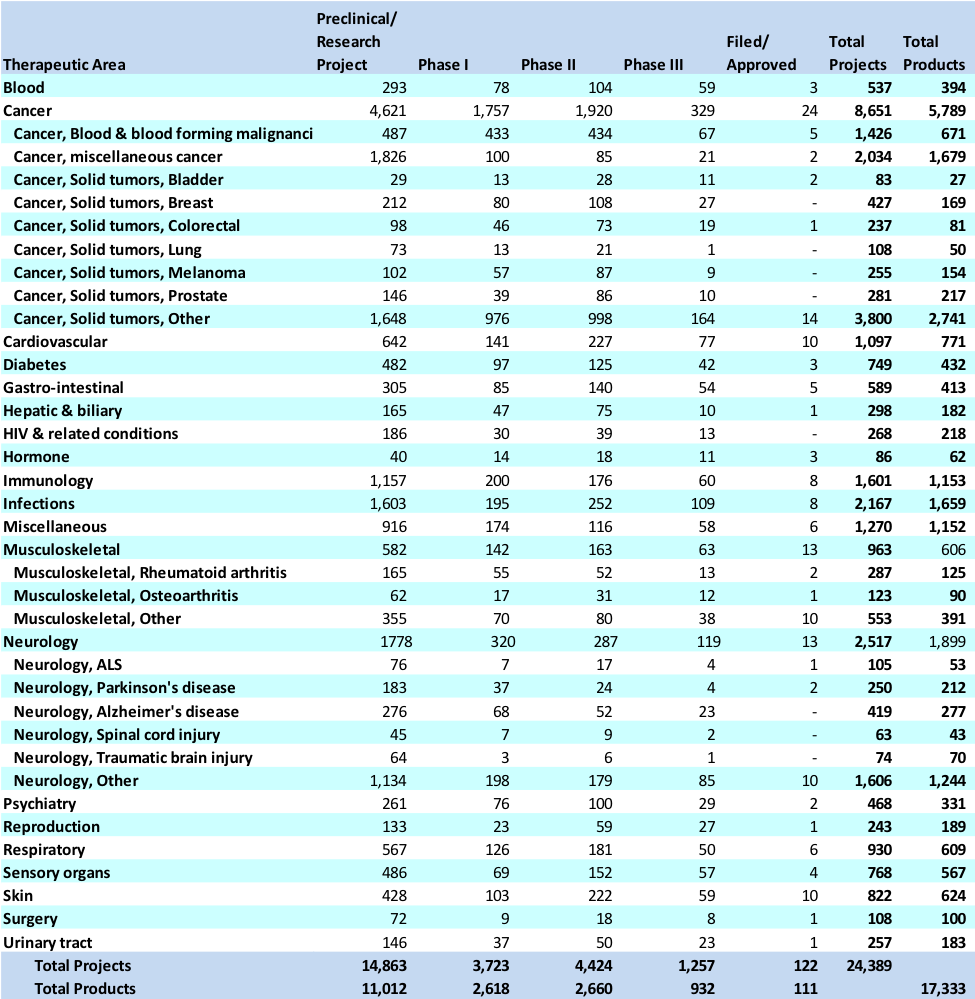 Source: Analysis Group, using EvaluatePharma data
---
Unique NMEs in development by stage (August 2016)